So you know how my dress came and I was about to go hunting for a strand of pearls? Well mum finally found her (grandmother's) pearls, and they match so perfectly that you'd think we'd deliberately chosen the fabric to match the pearls! So I have a single strand with a matching double strand bracelet, and I just need to go hunting for some earrings. My SIL thinks that I don't need earrings if I'm having my hair down, or just to get some simple pearl studs, but I just can't go past the allure of either drop pearl earrings or dangly earrings.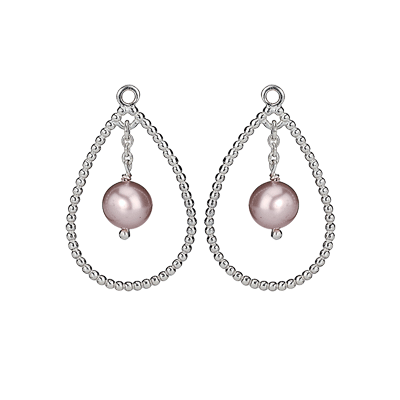 Some of my inspirations for dangly earrings include the
Wannabe DIY Bride
's cascade earrings (shown above, in appropriate colours of course!) Or some of the PANDORA compose earrings (like the ones on the left).. Orr I could get some cheap faux pearl earrings and use an appropriate coloured nail polish (as required) to make them match. Good thing I've still got time, yes?
I also need to take my (mum's?) pearls in to be cleaned and re-threaded.. they've been sitting in their box for quite some time now, and I'd hate for them to fall apart on my wedding day!
Oh, did I mention that mum's pearls are gold? (Hence the comments about making earrings match!)